Posted July 14, 2019 by
Bryan
Septic Absess of Putrifaction.  Now, there's a name for you!  That is, if you like the genre of music called "brutal grindcore."  I'm not sure that I've been exposed to such a genre, and I'm glad it was someone I'm friendly with who asked me to review their latest creation;  Please Come Back!  I Still Love You!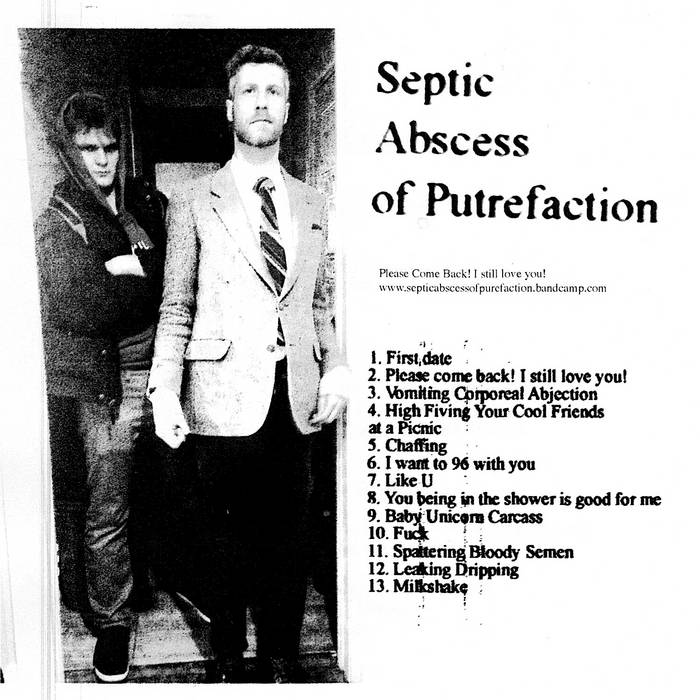 The intro of the album is a cutesy spoken word piece call "First Date."  "Holding my cranium in the palm of your hand, I arch my head backward and you kiss the side of my neck and touch the surface of my earlobe.  I can hardly keep myself from shivering in anticipation…" No more spoilers!
The following 6 songs are short, heavy, dark-metal versions of that opening narrative.  Impressive sound combinations coming from a duo.  Connor rouses us with screams and death growls while Will shreds in tandem with picking playfully on electric guitar.   The album contains a few quirky sound bites like in their song, "Like U" when the character Mark Corrigan from the 2003 series "The Interview" explains his desire for Sophie Chapman.
At this point, I was really warmed up to what I was hearing and the next few songs were music to my ears.  I have little clue as to what Connor was screaming and growling about, and then in the outro song "Milkshake", I had the opportune moment to hear him paint a Van Gogh into my mind's vista, describing the lancing of a sore from his visage.
I'm thankful for the opportunity to gorge on Hot 'n' Sour soup at Wok's Taste and be entertained by this audible force.  From the photos, it would appear they have a splash zone at their live performance and I'm sorry to have missed them play DSTRCT!
Go and give them a listen, and if you get the chance, Septic Absess of Putrifaction is playing at Silence August 23rd.