Posted February 28, 2020 by
Bryan
AT-A-GLANCE
1. Save the Dates! MusicOntario teams up with The Bout again in 2020 to present 4 Tune Up Toronto workshops.
2. The Bout, MusicOntario, Music Publishers Canada, & Women in Music Canada present: Monetizing your money w/ the rights and royalties experts who can get you paid! March 5
3. Humber College & MusicOntario seeking DIY artists for marketing project!
4. FACTOR Presents: Rise & Inspire – Womxn's Voices in Music, March 6
5. International Women's Day 4th Annual Summit, March 6-8 (MEMBER DISCOUNT)
6. The JUNO Awards – congratulations to the nominees!
7. Ontario at SXSW 2020!
8. FACTOR Annual Profile Review – February 28, 2020
Save the Date! MusicOntario teams up with The Bout again in 2020 to present 4 Tune Up Toronto workshops
After a successful 2019 run, MusicOntario and the bout are back at it in 2020 to bring free professional development workshops to local artists and entrepreneurs in Toronto!
The dates are February 20th, March 5th, April 2nd, April 16.
This year's sessions will feature both informative panels and interactive one-on-ones.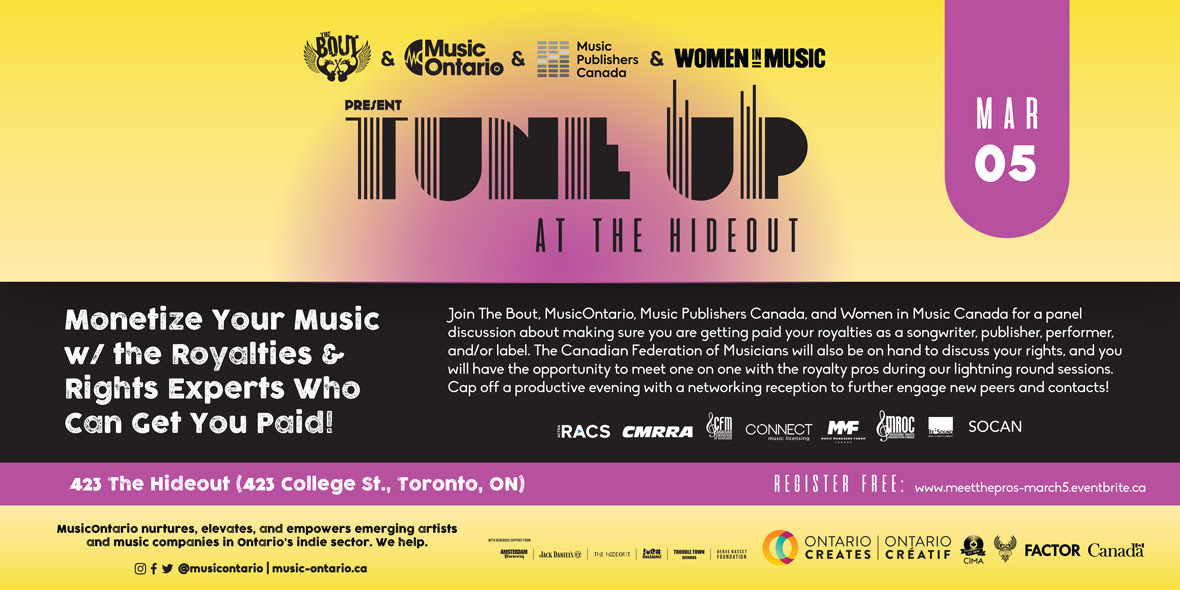 The Bout, MusicOntario, Music Publishers Canada, & Women in Music Canada present: Monetizing your money w/ the rights and royalties experts who can get you paid
Thursday, March 5, 2020 @ The Hideout (423 College St.), 6-9pm
A panel discussion with a number of key organizations dedicated to creators' rights and royalties, followed by a presentation by the Canadian Federation of Musicians, one-on-one lightning rounds, and a networking reception.
Free to attend: register here!
Humber College & MusicOntario seeking DIY artists for marketing project!
Are you an emerging artist/group based in the GTA who does not yet have formal management or representation? This opportunity may be for you!
MusicOntario is teaming up with Humber College to find two artists/groups to participate in the capstone project for their Music Business Program.
Full eligibility and criteria can be found here.
Deadline to apply is March 4, 2020
FACTOR Presents: Rise & Inspire – Womxn's Voices in Music
Friday, March 6, 2020 @ Artscape Sandbox (301 Adelaide St., Toronto, ON)
The event will consist of a welcome reception, FACTOR Q&A session, keynote conversation, panel discussion and Q&A, and more networking.
FACTOR, MusicOntario and CIMA staff will be on hand to answer questions, and you'll hear from industry pros like Kiana 'rookz' Eastmond (Sandbox Studios), Meg Symysk (eOne Music), Jheanelle Henry (Jarjour Co), Neena Sharma (URBNET), and Lydia Persaud (Jazz and folk artist).
International Women's Day 4th Annual Music Summit in Toronto
This 4th annual event celebrates women working in the music industry, with a focus on Rap, Hip Hop, R&B, funding, moms in music, and more.
March 6th @ Centre for Social Innovation
March 7th @ Basso Lounge
March 8th @The Hideout
MusicOntario members have access to discounted tickets – get in touch with samr@music-ontario.ca
Ontario at SXSW 2020!
Canada House takes place March 18-19, 2020 @ The Venue (516 E 6th St., Austin, TX)
Ontario Creates & MusicOntario are heading back to South By Southwest to present some stellar ON-based artists – stay tuned for the full lineup to be announced soon.
The JUNO Awards – congratulations to the nominees!
Congrats to the nominees of the 2020 JUNO Awards!
We are proud to call so many of you members!
Full list of nominees here!
FACTOR Annual Profile Review – February 28, 2020
Is your FACTOR profile up to date for your annual profile review? This could affect your profile rating.
Click here for more information.
The deadline to update your profile is Friday, February 28, 2020.